Documentation, photogrammetric measurements and research work of the church. St. Boris and Gleb in Grodno

Program of the Minister of Culture and National Heritage in 2015-2017
Protection of cultural heritage abroad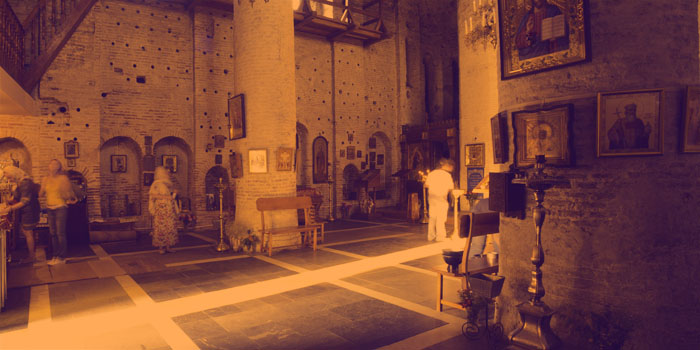 The beginnings
The church dedicated to Saints Boris and Gleb on Kołoży in Grodno was erected in the 12th century (the first records from 1138). Repaired and rebuilt several times, including at the beginning of the 16th century.
Building
Brick Orthodox church, stone brick weft, nave vault (not preserved) supported on brick walls of external and internal pillars. The wall structure has an open-to-inside vessel with an acoustic function.
Description
Outside, in the wall applied ceramic plaques with colored glaze. Inner plasters preserved on about 10% of the surface of existing vaults and walls (mainly the sanctum vault and wall niches). Wall paintings preserved remotely.
XIX - XX century
In 1853, as a result of slipping down the slope of the Nieman river embankment, the southern wall and part of the eastern and western elevations collapsed. At that time, the temple was excluded from worship. The ruin was secured at the beginning of the 20th century. From 1948, the building served as a museum. In 1991, the church of Saints Borys and Gleb was restored to worship.
In the twentieth century
Works done in the temple interior in 2015 and 2016 were the next stages of the project of a comprehensive digital inventory, scientific study and interdisciplinary research of the 12th century church dedicated to Saints Boris and Gleb on Kołoży in Grodno.
Niche 2 wall N
The niche 2 of the N wall has been documented in detail due to the preserved traces of the original polychrome. Fragments of niche walls with preserved polychrome have been photographed in the technique of mosaic photography. The preserved plaster fragments were also recorded in the infrared.